Preparation

Before obtaining a Kubrow, player must first complete the 'Howl of the Kubrow' quest, which will allow players to gain access to the Incubator Segment of the landing craft, and obtain the Nai-Zhen Collar which allows Kubrows to be fully tamed and have them accompany you in missions.
Acquiring
Kubrow
By the time you complete the 'Howl of the Kubrow' quest, you will have a fully matured Kubrow that is ready for action, and can be taken to missions to aid you in battle.
To acquire additional Kubrows, similar to the first one you acquired, you will need to search for a Kubrow Egg which can be found in Feral Kubrow's Den on the Earth's Forest Map.
Once you acquire an Egg, you can incubate the Egg at the Incubator Segment. You will need:
1 Egg
1 Incubator Power Core
1 open Stasis Slot
No active Pets
Note: You will receive the Incubator Power core while doing the Junction from Earth to Mars, or you can get its blueprint in the Market for 50 000 Credits, or 35 Platinum.
After 48 hours of Incubation (or 24 hours with a Nutrio Incubator Upgrade Segment), the egg will hatch, awarding you with a newborn Kubbie puppy that can now be named upon claiming (at this time you will also receive 2 MODs unique to the acquired Kubrow's ability). However, a newborn Kubrow is still too young for the battlefield, so it must mature first. Kubrow maturation takes 2-3 days after the puppy is claimed and the Kubrow then will grow to a larger adult size companion, which can be equipped at the Arsenal under 'Companion Loadout'.

Kavats
Before you are able to breed and own Kavats, you will have to first obtain a Kavat Incubator Upgrade Segment, which can be either purchased from the market for platinum, or researched at the Dojo. Once you have unlocked the Kavat portion of the incubator, you can then begin to breed them. This will require you to have an Incubator Power Core, and 10 Kavat Genetic codes which you can earn by scanning Feral Kavat.


Types of Kubrow and Kavat

Huras
"Prized for its ability to sneak up on unsuspecting prey, the Huras Kubrow were first used as hunting companions by the Orokin elite. Orokin Era Tenno soon adapted the strain for use in covert missions and assassinations."

Included MODs: Hunt, Stalk

Raksa
"Designed by the Orokin to be the perfect companion, a Kubrow was never far from its master's side. Loyal and obedient, these creatures made ideal bodyguards. Equipped with shield generators for added protection, their fierce growl could paralyze any attacker with fear."

Included MODs: Howl, Protect

Sahasa
"Enterprising Orokin genetic designers recognized that the Kubrow's affinity for games of fetch could be used for more serious endeavors. They soon developed a strain adept at reconnaissance and contraband recovery. Tenno often used the creatures to help resupply while in the field."

Included MODs: Dig, Ferocity

Sunika
"Once the value of Orokin guard-pets had been realized, it was not long after the Orokin guard began experimenting with strains designed for combat. These were no longer household pets but superior war animals bred for ferocity and aggression."
Included MODs: Savagery, Unleashed

Chesa
"This Kubrow will disarm adversaries and retrieve the spoils of battle."
Included MODs: Neutralize, Retrieve
Helminth Charger
"An Infested pet bred from the Helminth Cyst."
Included MODs: Trample, Proboscis, Strain Eruption, Strain Fever
The Charger is a special type of Kubrow. You will need a fully mature Helminth Cyst which will be ready to be used 7 days after being infected. You will notice the pink cyst on your Warframe's neck.
Once the Cyst is mature, you will have a "Drain" option displayed on the Incubator's screen when trying to incubate a Kubrow egg.
Smeeta
"This sly feline is playful yet devious."

Included MODs: Mischief, Charm


Adarza
"Piercing eyes reflect deadly instincts."
Included MODs: Cat's Eye, Reflect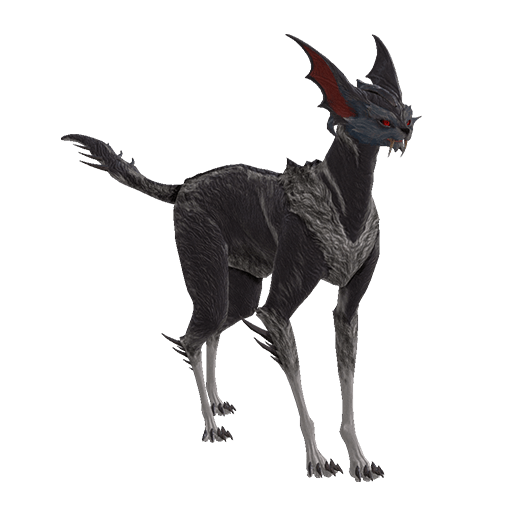 Vasca
"A true child of the night, and a drinker of life."
Included MODs: Draining Bite, Transfusion

Note:
In order to obtain this specific type of Kavat, bring a normal Kavat to the Plains of Eidolon at night to meet a Vasca Kavat. If your Kavat becomes tainted by a Vasca bite, imprint it and use two Imprints to breed one Vasca.

Please note that doing an Imprint of an infected Kavat will heal him, but he can still be infected once again afterwards. If you want to make your Kavat immune to the virus, visit Master Teasonai in Cetus for the Vasca Curative.
Customizing Pets

Once you have a trusty Kubrow or Kavat ready for action, you can customize your them by going to your Arsenal and 'Upgrade'. You can then equip MODs to your pets, so it can better assist you on the battlefield.

You can also change the appearance of your Kubrow or Kavat by going to Arsenal > Companion Loadout > Appearances, where you have a wide range of cosmetics that can be attached to your pets, and make it truly original.
Maintenance
Kubrows have two parameters that must be maintained in order to ensure that they perform to their best during missions, namely Genetic Stability and Loyalty, both of which can be viewed in the Incubator.
Note that since 24.5.7, pets no longer suffer negative effects from a lack of Loyalty or Integrity. Integrity and Loyalty are strictly a bonus on top of the Pet's base Health and Damage. You also no longer risk losing your Companion!


Genetic Stability (Health)
Genetic Stability refers to the Kubrow's physical vitality, which affects its maximum health. A newly hatched Kubrow starts out with 100% Genetic Stability, giving it a +100% bonus to its maximum health; a Kubrow with 150 base health will have 300 health at 100% stability. At 0%, a Kubrow will have its base health with no bonus. Their Genetic Stability degrades by 10% (5% with an Incubator Upgrade Segment) every 24 hours, which reduces the amount of bonus health and even reduces their maximum health beyond its base if left alone for too long.
This degradation can be countered by using DNA Stabilizers available from the Market costing 75,000 Credits (or 5,000 Credits for players with the Nutrio Incubator Upgrade) for a packet of 6, which restores lost Genetic Stability by 40% per use.


Loyalty (Affection)
Loyalty refers to the Kubrow's affection toward the player, and affects its combat performance. Each Kubrow starts out with 100% Loyalty, which provides a +100% bonus to the Kubrow's base attack damage. Loyalty decays by 20% on days the player has not interacted with the Kubrow in the incubator, and decays by 40% when the Kubrow dies in combat. Loyalty does decay if a Kubrow is killed after its owner has been killed. Lost Loyalty can be restored by using the Interact function on the Incubator or any place in your ship, where the Tenno plays with their Kubrow. This restores 20% Loyalty per interaction. While players can interact with their Kubrow as many times as they wish, Loyalty can only be restored up to 3 times per a 24-hour server cycle.
Kavats

As Kavats are independent creatures, they are used to taking care of themselves and do not need as much interaction as Kubrows. Players will still have to apply the DNA stabilizers to keep their health up, however the Kavats will remain at 100% loyalty.

Stasis
To begin, all Kubrows will first need a Stasis Pod to grow and mature inside before being taken along with in missions.
If a player expects to be away for long periods from the game, or simply wants to breed another Kubrow, they may place their currently active Kubrow in Stasis as players may only have one active Kubrow at a time. This clears the Kubrow from the Incubator, storing it in a Stasis Pod (which can be bought for‍ 10 Platinum each) and prevents genetic degradation and loyalty decay. While Kubrows can be brought in and out of Stasis at will, it takes 3 hours for a Kubrow kept out of Stasis to become active. This can be rushed with 10 Platinum. If the incubator upgrade segment is installed, this time is reduced to 30 minutes and the rush cost is changed to 10,000 Credits.
In the event that a player wishes to permanently remove a Kubrow from their possession, for example due to the lack of vacant Stasis Slots, the Kubrow can be consigned to the Lotus for 25,000 Credits. However, a Kubrow in Stasis cannot be consigned and therefore must first be revived from Stasis.
The Nutrio Incubator Upgrade Segment:
An Upgrade for the Incubator Segment can be acquired at Mastery Rank 5, whether by acquiring the Blueprint from the Clan Dojo's Tenno Lab and crafting it in the Foundry, or purchasing directly from the Market for 175 Platinum.
With the upgrade the following perks are added to the Incubator Segment, making Kubrow maintenance easier to manage:
Stasis Recovery is instant.
Stasis Recovery is free.
DNA Stabilizer costs from 75,000 to 5,000.
Egg Incubation reduced by a day.
Stabilizers last twice as long.
After segment installation, the daily DNA degradation rate is reduced from 5% to 2.5%.
Tips

Having trouble obtaining a Kubrow Egg? The Egg can be purchased from the market for 10 Platinum that can be immediately used for incubation.
Can't wait 48 hours for the Kubrow to hatch? You can rush the Incubation with 15 Platinum, however you still have to wait the additional 2-3 days after Incubation for the Kubrow to mature.